You get 50% of your DNA from each of your parents* which in turn means you get 25% of your DNA from each of your grandparents which in turn means you get 12.5% of your DNA from each of your great-grandparents which in turn means you get 6.25% of your DNA from each of your 2nd great-grandparents etc. However, these are only simple mathematical calculations. DNA is much more complicated than that and real life doesn't always match the math. For example:

You get 50% of your DNA from your mother and 50% from your father but which 50% of their 100% DNA is a crapshoot. Your parents also got 50% of their DNA from each parent but again, which 50% was a crapshoot. This means as the DNA is mixing and diluting as it is being passed down you can't use a simple mathematical equation to calculate how much DNA you got from a certain person. The only time that the percentages will be on the money is the 50% you got from mom and the 50% you got from dad because you inherit entire chromosomes from each.
Here is a great chart from ISOGG that give more of a real life expectation of what you might or might not actually see. Even if you should mathematically inherit X amount of DNA from an ancestor that doesn't mean you will.
Cousin Statistics ISOGG Wiki Page
The chart shows you the chance of you not inheriting any DNA form a particular ancestor. What this chart doesn't show you is the amount of DNA you could inherit in between the mathematical calculation and the calculation on these charts. In other words, you can inherit UP TO the mathematical percentage but it may be (and probably will be) lower.
Here is a real life example and one that many people are pursing, Native American (NA)ancestry. My 3rd-great grandmother was a Choctaw Indian (have paper trail). Simple math would say that I would inherit 3.125% of her DNA and my uncle who has also tested would get 6.25% At this level I only have a slight chance of not inheriting any DNA from her and my uncle has 0% chance. So far so good. However, with the way that DNA mixes and dilutes as it comes down the line I can have anything from 3.125% to 0% and my uncle can have 6.25% to above 0%
My uncle has 0.62%
I have 0.57%

Is this still reasonable? Yes it is. What is interesting is that I have almost as much as my uncle has. I wish I could have tested my dad because I would bet he got a bigger chunk than my uncle did. I also wish I could test my other living uncle but he isn't interested in testing. I would like to see how much he ended up with. The uncle that won't test has a granddaughter that did test. Mathematically she could have 1.5625% of her 4th great-grandmother's DNA. She has a little over 1/2% chance of inheriting no DNA. Her number should between these two. She has 0.19%
I am waiting for DNA from a first cousin to add to my NA pool as well as the DNA from my stepmother and her brother who both descend from my 3rd great-grandmother's brother. This is pretty exciting because I will have DNA from a different line to compare to. I still need to map out the exact segment matches but I am off to a good start. There is always a chance of a false positive but I don't think this will be the case.
For genealogists working with autosomal DNA this next chart from ISOGG might be of more interest. This will explain why you don't share as much DNA (or you share no DNA) with someone you have a paper trail for as a cousin match.
Here are the mathematical calculations for familial matches. This time it will be expressed in centimorgans (cM) along with the percentages. The chart is too big for the blog so go to ISOGG's Autosomal DNA Matches and scroll down to the Table, "Average autosomal DNA shared by pairs of relatives, in percentages and centiMorgans"
Now compare those mathematical calculations to what Blaine Bettinger actually found using real life data. Notice that in Blaine's data there are averages and ranges.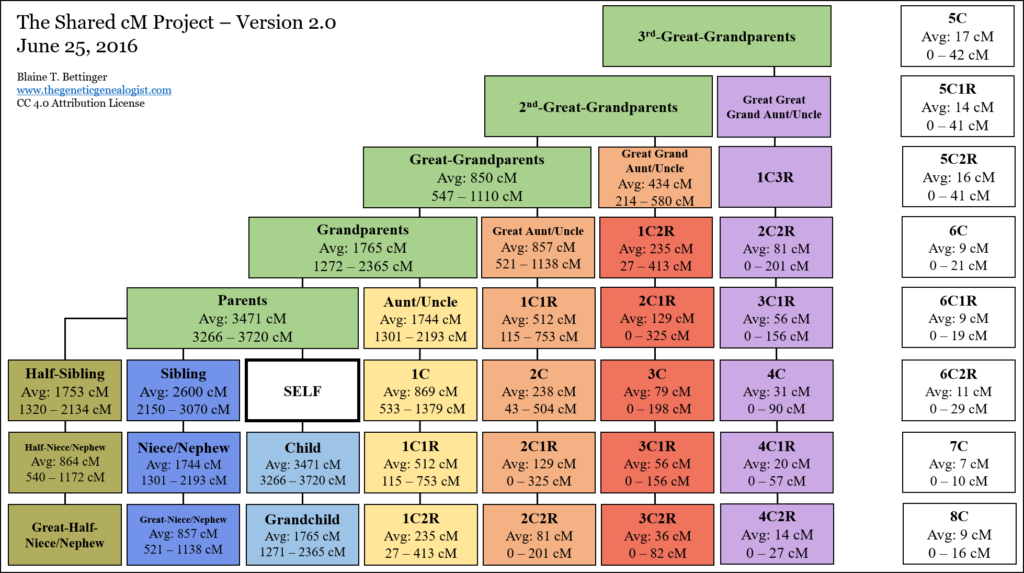 Update to the Shared cM Project
Blaine updates his chart as he gets additional data in. The more data, the more accurate.
Nutshell version – You can't rely on statistical calculations to rule someone in or someone out as a DNA match at a particular relationship.
---
* For practical purposes it is a 50/50 split but there are slight variations due to the y chromosome being smaller than the x chromosome and the possibility of endogamy – your parents having a common ancestor down the line somewhere and they are actually sharing some DNA.
NOTE: Gedmatch's Dodecad World9 Admixture algorithm was used to give the percentage of Amerindian in the DNA testers. Algorithm's are updated periodically and all of these numbers could change.
Copyright © 2016 Michèle Simmons Lewis